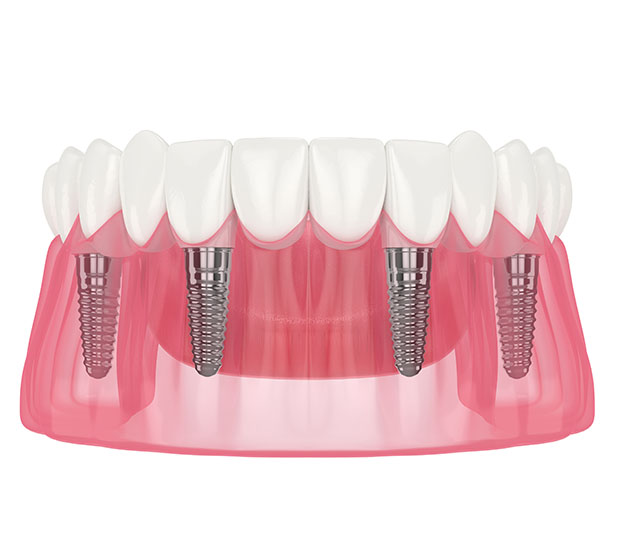 All-on-4
Woodland Hills, CA
All-on-4® implants provide a natural-looking appearance and full functionality of traditional dental implants without the need for the same level of commitment as traditional dental implants. Thanks to All-on-4's advanced dental technology, patients can now get dental implants quicker than ever before. All-on-4 anchors a fixed full-arch prosthesis onto four implants in one day.
All-on-4 is available at Brighton Periodontal & Implant Dental Group in Woodland Hills and the surrounding area. Replacing all your teeth does not have to be a long and drawn-out process. Call us today at (818) 703-7733 to schedule an appointment or learn more about our services.
Understanding All-on-4
According to a 2014 article published in the Journal of Clinical & Diagnostic Research, the All-on-4 procedure provides "edentulous patients with an immediately loaded full arch restoration with only four implants." While dental implants have been in use since the 1970s, Dr. Paulo Malo developed the All-on-4 treatment method in 1998. This method uses straight and angled multi-unit abutments, shortening the dental implants procedure into a single-day procedure — including any time necessary for teeth extractions.
Unlike All-on-4, conventional dental implants can require up to eight implants in each jawbone to replace a full set of teeth. Additionally, it can take patients up to eight months to recover from traditional dental implants. As such, the All-on-4 procedure is a perfect alternative for patients looking to expedite the healing process and lessen the pain.
Advantages of All-on-4
The titanium in All-on-4 implants can fuse directly with the jawbone, meaning they may last longer than other tooth replacement options. Consequently, they are also sturdier than removable options. In addition, All-on-4 implants may be a suitable choice for patients who have undergone bone loss.
Since they are a fixed tooth replacement option, All-on-4 implants are easier to clean than other alternatives. This also means that patients do not have to make any drastic dietary changes. Furthermore, the fact that they only require the insertion of four implants means that recovery is both quicker and easier.
When to Consider All-on-4
All-on-4 may be a suitable tooth replacement option for patients who have undergone bone loss, as the titanium in the implants can fuse directly with the jawbone. The procedure is also generally suitable for patients who are missing most or all of their teeth.
It is vitally important to replace missing teeth right away, as they can cause the jawbone to deteriorate. All-on-4 implants are necessary when a patient cannot commit to the traditional dental implants process or does not want dentures, bridges, or crowns.
The All-on-4 Treatment Process
Traditionally, replacing an arch of teeth with dental implants requires an implant for each tooth. As stated by the American Academy of Implant Dentistry, the All-on-4 treatment works by supporting the entire arch of replacement teeth with four implants. No bone grafting is necessary, and the implants undergo a process known as osseointegration, where they fuse with the jawbone. As they are set at an angle, All-on-4 implants are also longer and offer more support than traditional dental implants.
While the treatment process is similar to getting conventional implants, the All-on-4 procedure and recovery time are generally quicker. We will begin by taking impressions and X-rays to send to the lab. Then, we will use a local anesthetic on the patient and remove any damaged teeth if necessary. We will then insert a total of four screws in the upper and lower jaw.
The All-on-4 Recovery Process
We will have the patient apply gauze at the treatment size and gently bite down for the first hour after the surgery. If the bleeding persists, we will request that the patient change the gauze pack approximately every 45 minutes.
We will send the patient home with detailed post-operative instructions for optimal recovery. In general, patients should avoid touching or rinsing the surgical areas. They should also refrain from smoking and keep the mouth clean during the healing process. Most patients can return to work and regular exercise after about four days.
Call us Today
All-on-4 implants can look and function like natural teeth. If you are looking to replace most or all of your teeth, All-on-4 may be right for you. Call us today at (818) 703-7733 to schedule an appointment or learn more about our services.
Frequently Asked Questions
Do I still have to clean my All-on-4 implants?
Yes. Plaque can still accumulate on your All-on-4 implants. This can lead to gum disease, which can lead to inflammation in other parts of the body. Brushing and flossing your implants can also increase their longevity.
Does getting All-on-4 implants hurt?
We will administer an anesthetic to minimize any discomfort you may experience. However, you may feel some pain after the procedure. This is normal and can typically be taken care of with over-the-counter painkillers.
Will my face swell after an All-on-4 procedure?
Yes. This is normal and is no cause for concern. You can help reduce any swelling by placing an ice pack on the affected area. The swelling will typically subside 72 hours after the procedure.
Can I use my "new teeth" right away after the All-on-4 surgery?
No. Your gums must heal before you can eat any hard or sticky foods. The bone needs time to fuse with the new implants. Otherwise, you may have to start the process all over again.
How long will an All-on-4 surgery take?
Unlike the traditional dental implants process, the All-on-4 procedure is relatively quick. The surgery will generally last an hour or two. However, this varies according to each patient's unique needs.
Recent Posts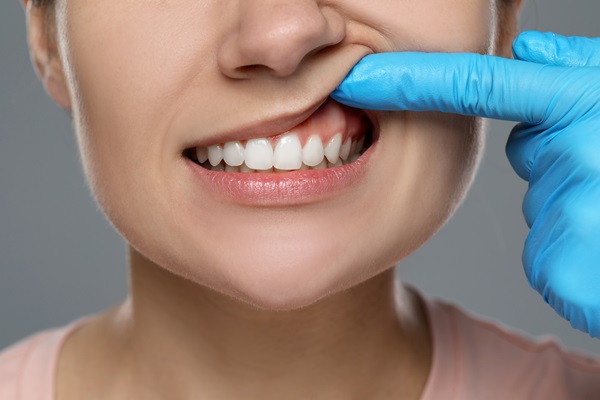 Looking for some gum health tips from a periodontist? According to the American Dental Association, a periodontist is a dentist who specializes in the prevention, diagnosis and treatment of gum disease.Preventing gum disease in the first place is ideal and requires proper dental care. Once the beginning stages of gum disease start to set in,…