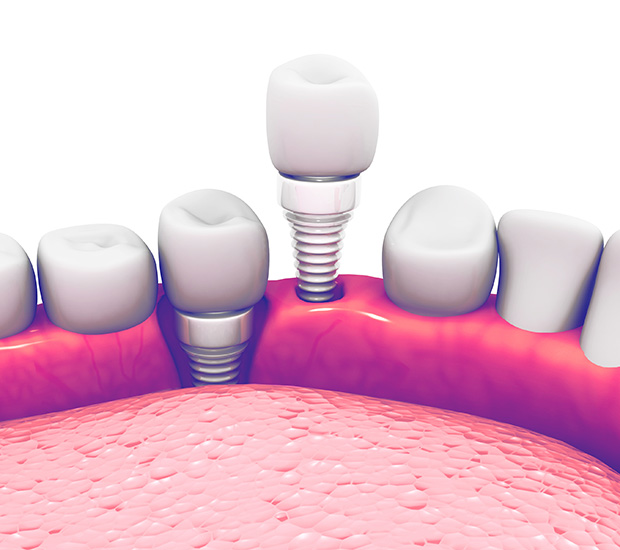 Ceramic Implant (Zirconia Implant)
Woodland Hills, CA
Ceramic implants (also known as zirconia implants) are a popular alternative to titanium dental implants. Dental implants are an excellent tooth-replacement option. It is important to know the differences between ceramic and titanium implants.
Ceramic implants are available at Brighton Periodontal & Implant Dental Group in Woodland Hills and the surrounding area. If you are looking for an alternative to titanium dental implants, ceramic implants may be right for you. Call us today at (818) 703-7733 to schedule an appointment or learn more about our services.
The History of Dental Implants
According to one article in the Open Dentistry Journal, dental implants have been used as early as approximately 2500 BC. These dental devices can support crowns, bridges, or even dentures as a tooth replacement option. Nowadays, most dental implants are made of titanium. However, ceramic implants have been developed as a suitable alternative.
Before ceramic implants, there were aluminum oxide implants. However, according to an article in Periodontology 2000, these were taken off the market in the early 1900s. Afterward, zirconia implants (also known as zirconium dioxide implants) were introduced "with improved properties as metal-free alternatives to aluminum."
Advantages of Ceramic Implants
Arguably, the most important advantage of ceramic implants is that they are biologically compatible with human tissues. While the same is true for titanium, allergic reactions do sometimes occur. Additionally, ceramic implants attract little bacteria.
They are also strong with decent fracture resistance, and this strength also makes them relatively durable against wear and corrosion. Plus, since ceramic can easily be colored to shade-match the patient's natural tooth, it provides excellent aesthetics. This makes ceramic implants an invaluable option for replacing front teeth.
Potential Complications of Ceramic Implants
Still, ceramic implants are not without their limitations. For instance, ceramic can deteriorate, leading to tiny cracks. It is generally also only available in one-piece implants. Patients who require two-piece implants (which use an angled abutment) may need to choose a metal alternative.
Patients should also avoid zirconia if they need any adjustment after getting the implant fitted, since any grinding on the implant's surface may weaken its resistance to fracture. Additionally, while more research is needed, some evidence suggests that ceramic implants may have higher failure rates than titanium.
Candidates for Ceramic Implants
Dental implants are surgically placed in the jawbone to act as roots of replacement teeth. As such, all candidates for ceramic implants must have one or more missing teeth or require at least one extraction. Additionally, the ideal candidate must:
Are unable or unwilling to wear dentures
Are willing to commit several months to the process
Do not have health conditions that will affect bone healing
Do not smoke tobacco
Have a fully grown jawbone
Have an adequate amount of bone to secure the implants or are able to have a bone graft
Have healthy oral tissues
We can help each patient determine which tooth replacement option is best for them, whether they be ceramic implants or otherwise.
Risks of Dental Implants
Aside from the potential complications of ceramic implants, there are also risks inherent to dental implants of any kind. However, any problems are rare and are typically minor and easily treated. Common risks of dental implants include:
Infection at the implant site
Injury or damage to surrounding structures (e.g., teeth or blood vessels)
Nerve damage, which may cause pain, numbness, or tingling in the chin, gums, lips, or natural teeth
Sinus problems (when dental implants are placed in the upper jaw protrude into one of the sinus cavities)
The Phases of the Dental Implant Process
There are usually three phases of getting any dental implant. First, the periodontist will surgically place the implant into the jawbone. We may recommend that the patient remains on a diet of soup, along with soft or cold foods. The bone will then fuse into the implant in a process known as osseointegration. This can take up to several months.
Once osseointegration is complete, the periodontist will attach the replacement teeth to the implant. For some patients, it is possible to have the implants and replacement teeth placed in a single procedure. Otherwise, it is finally time to place the artificial tooth or teeth. A single tooth implant requires a dental crown; to replace multiple teeth, the patient will require custom-made bridges or dentures. Replacement teeth typically take a while to make, but we may provide the patient with a temporary crown, bridge, or denture in the meantime.
Call us Today
For many patients, ceramic implants are a suitable alternative to titanium. We at Brighton Periodontal & Implant Dental Group can help determine which is right for you. Call us today at (818) 703-7733 to schedule an appointment or learn more about our services.
Frequently Asked Questions
What are some of the advantages of ceramic implants over titanium implants?
Since ceramic implants are metal-free, there is no risk of corrosion or metallic taste. They are also more natural and similar to the natural teeth. Their white color also makes them preferable as a natural-looking tooth replacement option.
Is it painful to get ceramic implants?
With any surgery comes the risk of discomfort. However, most patients find that the procedure is relatively painless as we use a combination of anesthesia and sedation to eliminate any discomfort at the time of the procedure. We may also prescribe medication for postoperative pain.
How long does it take to get ceramic implants?
This varies on a case-by-case basis. It may take as little as 30 minutes to place a single implant, while it may take several hours to complete a more advanced procedure. The entire implant process may take anywhere from three to nine months on average when accounting for osseointegration.
Is there a chance that my body will reject a ceramic implant?
No. Zirconium oxide is completely biocompatible and integrates with the surrounding bone to become a part of the body. However, other complications may occur. We will take all the necessary steps to ensure your procedure is as safe and successful as possible.
How much time will I need to take off after getting ceramic implants?
In most cases, you will be able to return to your normal activities as soon as the day after surgery. We recommend that you avoid participating in any strenuous exercise while you are healing. Some swelling is to be expected.
Recent Posts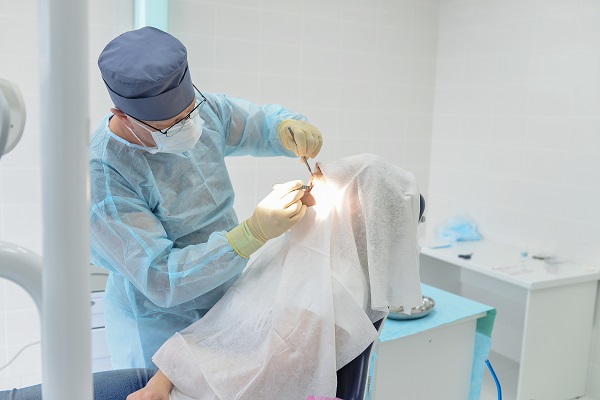 A sinus lift procedure goes by many other names, including sinus elevation, sinus augmentation, and sinus graft. It can be an important step in the process of having a dental implant placed in the upper jaw to replace a missing tooth. The procedure involves raising the floor of one of the maxillary sinuses and filling…