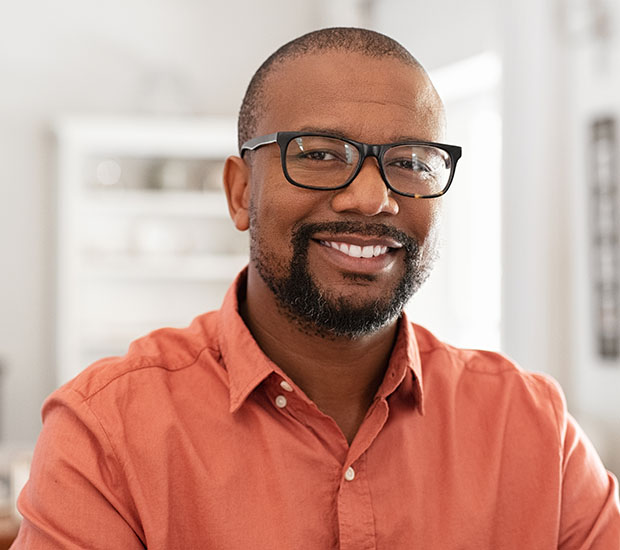 Implant (Endosteal Implant)
Woodland Hills, CA
An endosteal implant is a type of dental implant placed in the jawbone. It is used as an artificial root to anchor a replacement tooth. Endosteal implants are the most common type of dental implant.
Endosteal implants are available at Brighton Periodontal & Implant Dental Group in Woodland Hills and the surrounding area. We can help determine if this option is right for you. Call us today at (818) 703-7733 to schedule an appointment or learn more about our services.
Endosteal vs. Subperiosteal Implants
There are two main types of dental implants: endosteal and subperiosteal. Endosteal implants generally consist of titanium, and they are more common than subperiosteal implants. They are also placed directly in the jawbone. They are usually shaped like small screws and extend through the gum to hold the replacement tooth.
Subperiosteal implants are typically recommended for patients who do not have enough healthy jawbone to support other kinds of dental implants. Unlike endosteal implants, these implants are placed on or above the jawbone. They are also placed under the gum and protrude through the gum to hold the replacement tooth.
Candidates for Endosteal Implants
The ideal candidate for an endosteal implant has one or more missing teeth and meets the following criteria:
A fully grown jawbone
An adequate amount of bone in the jaw
An inability or unwillingness to wear dentures
Good general health
Good oral health
Healthy gum tissue, free of periodontal disease
It is also important that candidates do not use tobacco product, being ready and willing to commit to either several weeks or months to complete the full procedure. Much of this time will be spent healing and waiting for new bone growth in the jaw. We can help patients determine if endosteal implants are right for them.
Alternatives to Endosteal Implants
If a patient is an unsuitable candidate for endosteal implants, there are several alternatives available. These include subperiosteal implants, bone augmentation, ridge expansion, and sinus augmentation. Subperiosteal implants, as mentioned earlier, are implants that are placed on or above the jawbone.
In bone augmentation, we augment or restore bone in the jaw using bone additives and growth factors. A ridge expansion is when we add bone graft material to a small ridge created along the top of the jaw. A sinus augmentation is a process in which bone is added below the sinus. This procedure is also called a sinus elevation or sinus lift. These three methods all involve enlarging or strengthening the jawbone for endosteal implants.
The Endosteal Implant Process
The endosteal implant process begins with numbing the target area. The periodontist will then cut open the gum to expose the jawbone, drill holes in the bone, and implant the endosteal post snugly into the bone. Afterward, the post will be covered by the gum.
It is normal to experience swelling of the face and gums, bruising of the skin and gums, discomfort, and bleeding after surgery. We will give each patient customized instructions for proper aftercare and oral hygiene during the recovery period and, if necessary, we may prescribe pain medication and antibiotics. It is possible that we will recommend a soft food diet for the first week after the operation.
The jawbone will eventually fuse with the implant, a process known as osseointegration. It typically takes two to six months for that growth to become adequate for new artificial teeth. Once the ossification process has been satisfactorily completed, we will reopen the gum and attach the abutment to the implant. However, this second procedure is sometimes unnecessary, as the abutment is attached to the post during the original surgery. We can determine which option is best for each patient.
Call us Today
Endosteal dental implants are a more permanent alternative to dentures and bridges. We at Brighton Periodontal & Implant Dental Group can help determine if they are right for you. Call us today at (818) 703-7733 to schedule an appointment or learn more about our services.
Frequently Asked Questions
What are the advantages of endosteal implants?
Endosteal implants can essentially act as one's third set of teeth. With the proper care, they can last a lifetime. Additionally, they can enhance one's smile, boost one's self-esteem, and facilitate chewing. Endosteal implants can also never suffer from dental decay.
What is the success rate of dental implants?
The success rate of dental implants varies on an individual basis. Factors to consider can include individual health and habits. However, individuals with good oral hygiene and good overall health tend to report success rates above 90 to 95 percent.
Is endosteal implant placement painful?
Everyone's pain tolerance is different. However, most people find dental implant surgery to be very easy to tolerate. Any post-operative discomfort can typically be managed with over-the-counter painkillers, such as ibuprofen. Ice can also help reduce swelling.
How do you care for endosteal implants?
Though endosteal implants are invulnerable to dental decay, they still require the same care as natural teeth. In other words, they require daily brushing and flossing, along with dental checkups and professional cleanings. In general, by neglecting oral hygiene, one puts themselves at risk of gum inflammation or infection.
Is it possible for my body to reject an endosteal implant?
No. Endosteal implants do not contain any living cells or genetically coded material that can be rejected. They are also made of biocompatible material, and any allergies are extremely rare. However, implants may still fail to integrate with the jawbone if an infection develops. This typically occurs in cases of poor oral hygiene. Alternatively, the implant may have been subjected to biting forces too soon.
How long does a dental implant procedure take?
There are a few factors that can influence this. These include your dental health, which teeth are being replaced, the number of teeth being replaced, and whether or not you require a tooth extraction before the implant placement. However, it typically takes about two months to restore the mouth with an implant, and the entire process may take around three to nine months. It may take longer if you have an extraction that has to heal or if you need bone grafts before the dentist implants the posts.
Recent Posts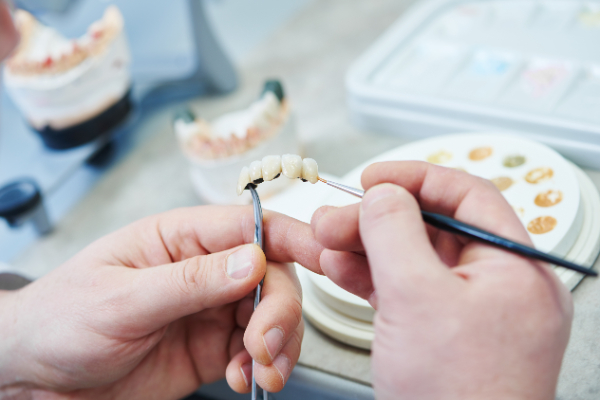 Losing a tooth can ruin your smile, but with a tooth replacement option from your local prosthodontist, you can get your smile back in no time and improve your self-esteem and quality of life at the same time. Tooth loss can happen for many different reasons, accidents, injuries, and diseases, but you do not have…